What Can You Do to Get Your Business Running Efficiently?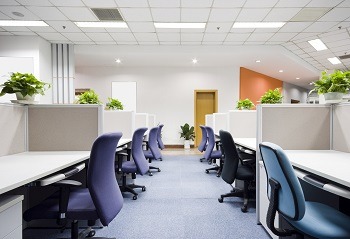 Efficiency is key when it comes to running a successful business. The more streamlined you can make your day-to-day operations, the more productive and profitable your business will be.
But efficiency and the profits it can bring don't manifest only in your employees' work process. They can also show up in the form of the the components that keep your business running -- components such as your HVAC system, plumbing, and electrical setup.
When these components run efficiently, your business runs efficiently. And when your business is efficient, your business is profitable. Thus, you'll want to keep these components running as smoothly and as efficiently as possible.
But just how can you do that?
To figure that out, just read on for some tips for keeping your HVAC, plumbing, and electrical setups running like a dream for many years to come!
HVAC Maintenance
A properly working HVAC system is important for maintaining a motivated and efficient workplace. After all, if someone were subjected to working in an office that were too hot or too cold, they might lack the focus or drive to provide the output your business needs to stay at the top of its industry.
To keep your HVAC system (and your employees) working as efficiently as possible, follow these guidelines:
Keep Your Air Ducts Clean - Dirty air ducts can cause your HVAC system to work inefficiently, causing your electricity bills to increase while making your workplace uncomfortable and inefficient.
Know The Signs of HVAC Problems - There are a number of signs that indicate your HVAC system needs to be looked at, some primary ones being leaks around the central unit, poor air circulation, and unevenly heated or cooled rooms.
Get Routine Heating & Air Conditioning Tune-Ups - Wear is inevitable with a system that you use as often as you'll use your HVAC system, and that wear will eventually lead to costly repairs. To delay and even avoid these repairs, just get routine tune-ups.
Plumbing Care Tips
Properly working plumbing is a necessity in the modern world. People rely on indoor plumbing multiples times a day for multiple reasons.
If your company's plumbing runs in less-than-great order, then you could begin to notice a dip in productivity. Perhaps your employees will be losing work hours as they go elsewhere for indoor plumbing, or perhaps a shoddy plumbing setup will have knocked the wind out of their sails. Whatever the reason, it can all be traced back to shoddy plumbing, which can be avoided by following these simple guidelines:
Know What You Can and Cannot Put Down Your Drains - Perhaps the most common plumbing issue anyone will face is a clogged pipe. This can occur for many reasons, but one of the big ones is flushing objects that are not meant to be flushed. To help avoid this issue, know what these objects are, and take the measures you need to ensure that your employees avoid putting them down any drains within your company.
Keep Your Pipes From Freezing - Though this problems is presented during only part of the year, it can prove to be a serious one indeed, as frozen pipes can result in large-scale and quite expensive breaks. Avoid these breaks by taking the necessary precautions against frozen pipe damage: insulation and the like.
Keep Your Plumbing System Up to Date - If your plumbing system is 10 years or more old, it might be time to get it checked out to ensure that all of its components are in great shape and are running efficiently.
Electrical Care Tips
Your electrical work is perhaps the most important one for the daily running of your business. Without electricity, you can't so much as operate the lights you need to see around your office, let alone the computers and other systems that you need to keep business running.
Without properly working electricity, your business could be in the dark -- literally and figuratively. To avoid this problem, just keep up with your electrical setup in the following ways:
Don't Run More Appliances Than Your Electrical Setup Can Handle - If your breaker box is designed to handle only so many amps, don't use more than that number of amps. If you need to handle more appliances than your current breaker is fit to handle, then you need to get a breaker upgrade before doing so.
Know the Signs of a Worn-Out Electrical Setup - Like anything, your electrical setup can wear down over time. Luckily, this wear is often heralded by some fairly obvious signs, the most common of which are the following: frequent breaker flips, burning smells, and inefficiently working appliances. If you notice any of these signs, you need to . . .
Have a Professional Check Out Your Electrical Setup - If you think your electrical setup is working poorly to any degree, call up a licensed professional to work on it. If you do not do so, you could be facing an inefficient workplace -- and worse yet, a potential fire hazard!
Call On a Professional Commercial General Contractor You Can Trust
If you want to keep your business as efficient as possible, you need your basic components -- HVAC, plumbing, and electrical -- running efficiently. And to keep those components running efficiently, you need to call on an experienced professional for all of your installation and maintenance needs.
And if you live in Northern Maryland, then the professional commercial general contractor for you is LG Construction Inc. We have the experience and resources necessary to ensure that your HVAC, plumbing, and electrical setups remain in the best working order possible.
Don't risk developing an inefficient and, therefore, unprofitable workplace. Keep it efficient and keep it profitable by keeping your commercial HVAC, plumbing, and electrical setups running well. And to keep those running well, just call on the experts at LG Construction Inc.
For more tips on how to keep your business profitable with proper commercial maintenance in Maryland, call (443) 966-5006 or complete our online request form.