Edgewood Commercial Construction Experts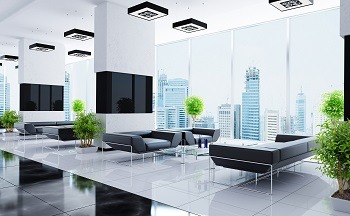 Do you own or operate a commercial building in or around the Edgewood, MD area? If you do, does that building need any kind of renovation or construction work done -- work such as electrical work? If so, then you need to call on the expert Edgewood commercial general contractors at LG Construction Inc. today. With our many years in the business and our dedication to providing great commercial renovation and construction services in Edgewood and surrounding areas of Northern Maryland, we at LG Construction Inc. can get your commercial building looking and running like brand new again, no matter what work you need done.
Whether you operate an office, a hotel, or any other kind of commercial building, you'll want that building to look great and function great. After all, you're in the business to make a profit. And to make a profit, you'll want to attract a customer base -- something which can be hard to do should your commercial building be unattractive to look at. On top of that, you'll want your business to function great, as it can with a great electrical setup. To get the best-looking business with a reliable electrical setup, you can rely on the commercial general contractors at LG Construction Inc.
Commercial Renovations in Edgewood, MD
Imagine two businesses. One is pristine with a great paint job and strong, lovely masonry work. The other is shabby with a peeling, flaking paint job. Which one are you inclined to give your business to? The attractive one, right? After all, a business that cares to maintain an attractive storefront likely cares to provide excellent service. Now consider what kind of business potential customers see when they see your storefront. Is it one that accurately represents you as a caring, conscientious business or one that colors you as a careless business? If your business represents you as the latter, then call on LG Construction Inc. for a commercial renovation in Edgewood that gives off the best image to get you the greatest customer base.
Commercial Electrical Work in Edgewood, MD
Your company's electrical work is important for the productivity of your business. After all, an inefficient electrical setup can cost you productivity should your electronics struggle to work efficiently, and it can also cost you money, as an inefficient electrical setup can increase your power bill. If you are experiencing lower productivity and higher electrical bills, just call the commercial electrical experts at LG Construction Inc. today. We'll provide you with the best commercial electrical setup so that you can continue to make the kind of profits that you are in business to make.
If you are looking for an experienced general contractor that specializes in commercial renovation and construction in Edgewood, MD then please call (443) 966-5006 or complete our online request form.