Commercial Plumbing Services in Northern Maryland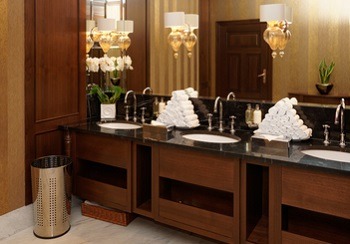 Good plumbing is vital to the success of your commercial building. Unlike in a personal residence, where improperly working plumbing inconveniences only you, broken commercial plumbing inconveniences all the many people who use it.
Plumbing issues in a commercial building are not just an inconvenience. They can also result in a significant loss of revenue if your employees fail to do their job because of the lack of a basic installation or if your customers choose not to do business with you for the same reason.
On top of keeping up with general maintenance, you as the owner of a commercial building have to keep up with current plumbing standards. Failure to do so could result in fines and other issues that prevent your goal of making the most profit possible.
Don't risk facing these revenue-losing headaches related to your plumbing, and don't take it upon yourself to address them. Just farm the work out to the commercial general contractors at LG Construction Inc. We have the resources and know-how to ensure that your commercial plumbing works and remains up-to-date.
Commercial Plumbing Repairs
Much more so than a residential plumbing setup does, a commercial plumbing setup will take a beating every single day. This beating can quickly and regularly result in issues that require repair work to rectify.
If your commercial plumbing needs a repair, don't become frustrated. You already have enough to handle if you own and operate a commercial building. Instead, just call up the commercial general contractors at LG Construction Inc. You handle your business. We'll handle ours. And our business is providing top quality plumbing repairs to businesses throughout Northern Maryland.
Handing over your plumbing issues to an experienced commercial construction and renovation contractor will ensure that your plumbing is handled correctly in a manner that keeps your plumbing setup up to code. You might not have expert knowledge of plumbing, but we at LG Construction Inc. do.
Up-To-Code Plumbing Installations & Renovations
With a commercial building, you don't want plumbing that simply works. You want plumbing that adheres to a strict standards. Just as you might not understand the process of repairing plumbing, you might not know what those standards are.
On the other hand, we at LG Construction Inc. do know what those codes are, and we are more than capable of ensuring that your commercial building adheres to those standards. Don't risk facing a penalty that could result from not-up-to-code plumbing. Just let the commercial general contractors at LG Construction Inc. handle all of that work for you while you focus on making your commercial building a profitable one.
For quality commercial plumbing services in Northern Maryland, call the experienced team of general contractors at LG Construction Inc. at (443) 966-5006 or complete our online request form.
Recent Articles