Quality Commercial Painting & Drywall Installation Services for Northern Maryland Businesses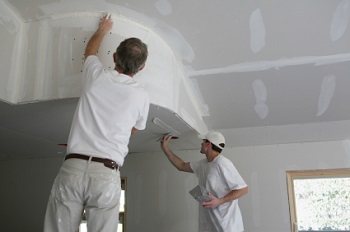 You have two primary concerns when it comes time to construct your commercial building: aesthetics and functionality. And those are two things that can be addressed, in large part, with your paint and drywall.
Your drywall will, of course, provide your commercial building with a sturdy support for its walls. And the paint you apply to those walls will give your business an appealing color palette that will help you to attract a customer base and to provide a colorful, positive atmosphere for your employees.
For optimum drywall installation and repairs as well as the best commercial painting work in Northern Maryland, you want to farm the job out to an experienced professional. And if your commercial building is located in or around Perryville, then the experienced professional for you is the team of commercial general contractors at LG Construction Inc.
LG Construction Inc. has quite a few years of experience installing drywall and painting the interior and exterior of commercial buildings. With extensive experience in commercial construction and renovation work, our general contractors are more than capable of handling your drywall and painting service needs in Northern Maryland.
Do not take on the task of installing your company's drywall or painting your company yourself. That risks doing something wrong and ending up with walls that are weak and a paint job that is sloppy. Get guaranteed results with the professionals at LG Construction Inc. instead.
Professional Drywall Installation & Repair Work
Your commercial building needs to be sturdy -- not just for you but for all the people who will be within it: employees, customers, delivery personnel, etc. Damages that result from an unsturdy structure can result in costly damages and, should anyone be hurt because of the structure, costly lawsuits.
You're in business to make money, so you need to do what you can to avoid losing money because of poor structural support. Thus, you need to have your drywall done by an experienced professional who knows how to best install it -- an expert such as us at LG Construction Inc.
Interior & Exterior Painting for Commercial Properties
Structural soundness is of the utmost importance when it comes to building your commercial building, but aesthetics are important, too. Once your commercial building is sturdily constructed, you can focus on making it look great.
A business should be attractive, and it should also make it clear what kind of service you provide. And with the right color of paint, you can help beautify your business while also helping to advertise what kind of business it is. To get the most out of your new paint job, call the commercial general contracting experts at LG Construction Inc.
For quality commercial painting services and drywall installation in Northern Maryland, call the experienced team of general contractors at LG Construction Inc. at (443) 966-5006 or complete our online request form.
Recent Articles